Interview with Jonathan Watkins
Interview with Jonathan Watkins, VGP´s Chief Operating Officer (COO) Western Europe
Since 1 December 2019, Jon is part of VGP's management team as Chief Operating Officer (COO) Western Europe. In this role he supports the country teams in Germany, the Benelux, Portugal, Spain and Italy as well as leading potential expansion of the Company into other Western European countries.
Jonathan, can you recall when you first learned about VGP?
Yes, when I was working with Amazon and looking for properties in Germany, our park in Frankenthal was one of the first leases that I  signed on behalf of Amazon.
After a successful career as EME Head of Real Estate at Amazon, you joined VGP in December 2019. What made VGP so attractive for you?
In my previous job I negotiated three lease deals with VGP and through this I was able to meet and get to know some members of the VGP team. I was struck by the family nature of the company, the quality of the team and the speed of the decision making, which for a stock market-listed company is exceptional. These things separate VGP from the other developers that I have worked with in my career so far. I really felt as if it was a company I would enjoy working for in the long term, and so far, I was right!
In your role you will support the country teams in Germany, the Benelux, Portugal, Spain and Italy as well as leading potential expansion of the Company into other Western European countries. After the first few months, what do you see as your top priorities?
Without any hesitation, it is land acquisition and recruitment. Without land we don't have the basic raw materials to produce our product, so establishing a long-term pipeline for the future is vital. In terms of recruitment, we currently have a first-class team in place. However, as we grow, we need to grow the team as well. It is a big priority to strengthen the team and maintain the spirit. But only if we find people who will fit with our culture and share our values.
What opportunities do you see for VGP's business in those markets? And what are the challenges?
In some of the countries where we operate there are not many companies building speculatively as we do, this gives us an edge. However, the biggest challenge is keeping the quality of the location high. If we compromise on the quality of the location the risk of not successfully letting a building increases exponentially.
Sustainability has become one of the key themes for VGP. Is this an increasing demand from your customers/tenants or what induced the company to take this step?
The company has just published it's first Corporate Responsibility Report. This clearly underscores the company's progress and commitment to strengthening sustainability efforts across its day-to-day business. This is not a "nice to have"; it is integral to our strategy, and a clear signal that we want to do more in creating value for our customers and shareholders.
Can you give a few examples of sustainable solutions that VGP offers its customers?
The company has already launched and implemented numerous initiatives in 2019, such as the launch of VGP Renewable Energy, a new separate business line 100% owned by VGP N.V., to capitalize the available roof space on the VGP parks for photovoltaic systems and most current energy technologies, the clear intention to certify all new buildings from this year onwards with BREEAM (Building Research Establishment Environmental Assessment Method) certifications and the launch of the VGP Foundation. And for 2020 we have set ourselves enhanced sustainable development goals, as we believe the private sector plays an important role in creating solutions that help grow the economy and addressing challenges such as climate change.
Finally, you are originally from Wales, however, have gained quite a lot of experience living in various places of Europe. What did you find exciting to live in those countries? Any favourite place?
During my time in the army I was based for two years near Düsseldorf, which was a city I really enjoyed spending time in. It is so great to have the opportunity to go back there all these years later.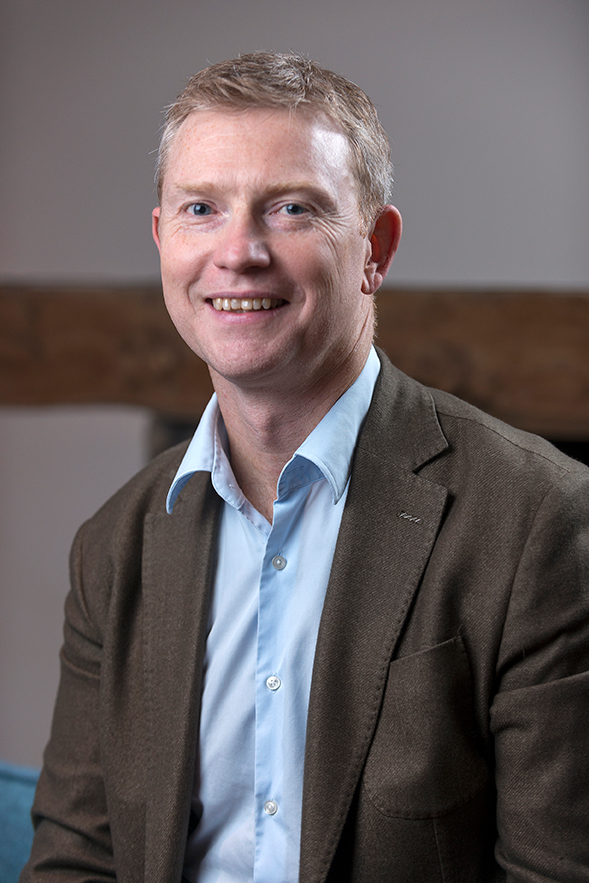 Jonathan Watkins

Jon was most recently EME Head of Real Estate at Amazon, in which capacity he was responsible for Amazon's warehouse and logistics buildings throughout the European Union and the Middle East, with a special focus on the two biggest markets of Germany and the UK. For Amazon, he secured over 3 million m² of warehouse and logistics space. Originally from Wales, he has lived in Germany, Scandinavia and Luxembourg.