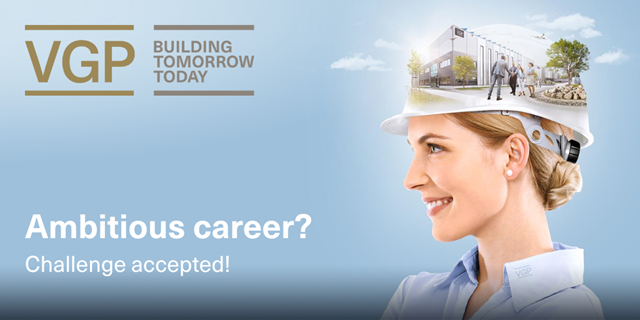 Project Development Manager -Renewable Energy Italy (m/f/x) - Milan
VGP is a pan-European developer, manager and owner of high-quality logistics and semi-industrial real estate. VGP operates a fully integrated business model with capabilities and longstanding expertise across the value chain. From layout to technological solutions, our service offerings include the development of "build-to-suit" solutions to meet our clients' specific needs. We also provide supervision of the construction work until delivery of the turnkey-project buildings, long-term leasing, and facility management.
Founded in 1998 as a Belgian family-owned real estate developer in the Czech Republic, VGP with a staff of over 300 employees today owns and operates assets in 11 European countries directly and through different joint ventures. We are continuously working to optimize our buildings in accordance with the demands of the market and the latest technical developments. That means energy efficiency and sustainability are among our top priorities. VGP is listed on Euronext Brussels. (ISIN: BE0003878957). For more information, please visit: http://www.vgpparks.eu 
Context
Our rapidly expanding VGP Italian company is looking for a motivated and experienced Project Development Manager for Renewable Energy to plan and supervise a wide range of development of solar projects. The candidate will be placed in the Italian office bass and will have to report to the Country Manager / Technical Director of the group. The ideal candidate should give the reliable support to real estate renewable energy development activities in planning and coordinating technical and design activities from initial conception to the final delivery of projects including all the administrative and permitting aspects. Responsibility in achieving optimal results, compliant with quality, safety and sustainability standards and consistent with objectives, performance, costs and timeframes.
For our new Italian office in Segrate (Milan), we are currently looking for a: 
Project Development Manager - Renawable Energy Italy (m/f/x) 


Job description:
Work towards solar project opportunities identification and assessments, regulatory feasibility and approvals
Manage the development of solar projects, with a focus on permitting and connection activities.
Oversee relationships with project stakeholders, including developers, transmission service operators, local councils and suppliers.
Procure and negotiate Power Purchase Agreement for projects.
Support financial department on project finance activities.
Coordinate with internal Technical, Financial, and Legal teams and other stakeholders to implement and accelerate all project related work leading to decision on investment as per internal procedures.
Contribute to the development and implementation of short and longer term strategies for developing new renewable energy projects.
Maintain sustainable and productive relationships with existing clients/tenants.
Assess risks involved with new initiatives, ensure deadlines are met and be ready to handle unexpected situations.
Our requirements:
At least 5 years of relevant work experience in a technical and or commercial role in the solar industry directly related to (sustainable) energy production
Knowledge of relevant existing technologies in the field of PV modules and solar energy
Able to build a bridge between technology and commerce
A strong independent and commercial approach: you are always on the lookout for opportunities and alert to opportunities for VGP Renewable Energy and you turn them into business
Knowledge of complex energy systems and can discuss innovation and sustainability with customers and users
Proactive in helping to accelerate the energy transition for the Group and our clients
Experience in the development of solar and/or wind projects in Italy
Knowledge of relevant existing technologies in the field of PV modules and solar energy
Knowledge of Financial Close of Renewable Energy projects
Knowledge and experience of PPA securing and negotiation for projects in renewable energy  
Knowledge Italian energy regulations and framework and market knowledge
Strategic thinking, prioritization skills and able to plan and execute under defined procedures
Strong commercial acumen and analytical skills
Good team working and team management skills
Ability to work independently and drive projects autonomously
Fluent written and spoken knowledge English
Good knowledge of MS Office
Willingness to travel within Italy
What we offer:
Location: office based in Segrate (Milan)
Term of Contract: permanent
Contractual Framework: to be agreed
NCLA: CCNL terziario della distribuzione e servizi.
Remuneration: Salary to be agreed
Should you find yourself in our job description we are looking forward to receive your application letter. Please send your complete application only in English via e-mail to: vgpitaly@vgpparks.eu 
By sending your CV and any other personal information to the above e-mail address, you explicitly consent to the respective VGP entity processing those of your personal data, which you will provide, and to use such personal data for the purpose of evaluating your job application, as well as for the purpose of archiving such personal data for a period of three years from the date of receipt of the information. For further information, please see our Personal Data Protection Policy.