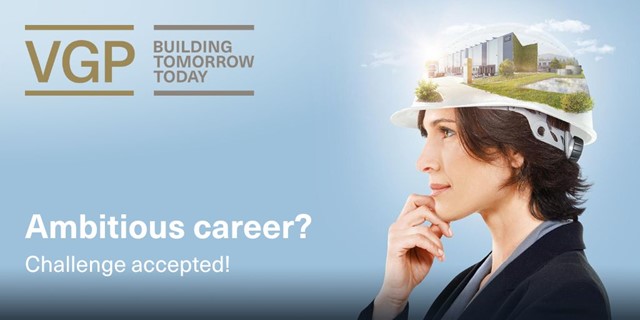 Consultant Sustainable Building (m/f/x) - Prague
VGP is a pan-European developer, manager and owner of high-quality logistics and semi-industrial real estate. VGP operates a fully integrated business model with capabilities and longstanding expertise across the value chain. From layout to technological solutions, our service offerings include the development of "build-to-suit" solutions to meet our clients' specific needs. We also provide supervision of the construction work until delivery of the turnkey-project buildings, long-term leasing, and facility management.
Founded in 1998 as a Belgian family-owned real estate developer in the Czech Republic, VGP with a staff of circa 350 employees today owns and operates assets in 12 European countries directly and through different joint ventures. We are continuously working to optimize our buildings in accordance with the demands of the market and the latest technical developments. That means energy efficiency and sustainability are among our top priorities. VGP is listed on Euronext Brussels. (ISIN: BE0003878957). For more information, please visit: www.vgpparks.eu 
For our Czech office in Prague, we are looking for a:
Consultant Sustainable Building (m/f/x)

In this position you will be responsible for various activities towards the goal of obtaining sustainability certifications for VGP logistic buildings. In close cooperation with various departments, you are the first point of contact for the topic of sustainability throughout all construction phases.
Job description:
Work on own projects within the scope of sustainability certifications with a high degree of personal autonomy (DGNB, BREEAM, or similar)
Diverse activities in the office and on the construction sites such as subcontractor training, machinery & material testing with regard to sustainability requirements & communication with subcontractors
Support of various departments such as purchasing and planning, as well as documentation and preparation of documents in relation to the criteria of the respective certification form
Preparation of life cycle assessments, life cycle analyses and component catalogs
Further development of the VGP sustainability concept
Our requirements:
Bachelor or Masters degree in the field of civil engineering / industrial engineering / architecture / sustainable construction or similar fields of study
Previous experience in sustainability certifications is preferred
Willingness to travel
High interest in the topic of sustainable construction
Proficient in Microsoft Office Suite (Word, Excel, Outlook)
Structured way of working, social competence and ability to work in a team
What we offer:
A versatile key position in a fast growing company with a high level of personal autonomy
Pleasant work atmosphere with respectful interaction within the team
Performance-related salary
Should you find yourself in our job description we are looking forward to receive your application letter. Please send your complete application only in English via e-mail to: sally.silze@vgpparks.eu 
By sending your CV and any other personal information to the above e-mail address, you explicitly consent to the respective VGP entity processing those of your personal data, which you will provide, and to use such personal data for the purpose of evaluating your job application, as well as for the purpose of archiving such personal data for a period of three years from the date of receipt of the information. For further information, please see our Personal Data Protection Policy.